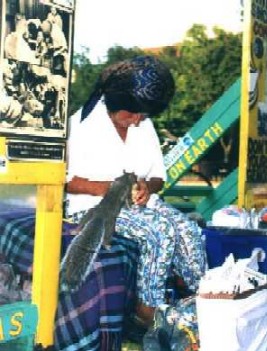 Protesters On Constant Vigil Near White House
By Mark Weinraub
March 14, 1999, Reuters
WASHINGTON - They have outlasted U.S. presidents Ronald Reagan and George Bush, and they plan on outlasting President Clinton too.
The protesters that maintain a constant vigil against nuclear weapons just across Pennsylvania Avenue from the White House have been on the job for the past 18 years and do not plan on going anywhere.
The vigil, consisting of four upright wooden signs, has become a staple of Lafayette Park. The signs welcome visitors to ``Peace Park,'' call for ``wisdom and honesty'' from world leaders, and depict the devastation of war.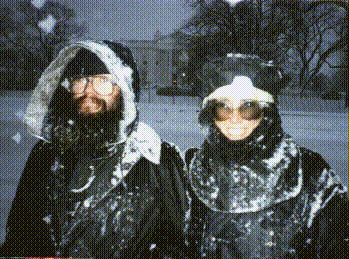 Even a late-winter storm this week that dumped eight inches (20 centimeters) of snow on the nation's capital could not dislodge those who maintain the vigil 24 hours a day, seven days a week, from their posts.
``I think that there's more to life than just seeking pleasure and comfort,'' vigil worker William Thomas says.
FINDING A FOCUS
Thomas, 52, who co-founded the vigil in 1981, says he originally did not come to protest nuclear weapons.
``I think I'm a realist,'' says Thomas, his long beard covered in snowflakes. ``I believe in truth, justice, freedom and equality and I feel that the value system of this country is dollars and cents.''
The group is indefinite in number as members assist at the site on a now-and-again basis.
Thomas says he came to the White House to make himself available to other people to test his perception of reality. He changed his focus after a friend advised him that his goal was too abstract because, ``all people care about is their ass and their pocketbook.''
Nuclear weapons fit that description, Thomas says.
``If they don't use them, which they swear they don't want to do, then they just wasted all that money. And if they do use them, they're going to cause a real good problem,'' he said.
Keeping the vigil up and running requires a lot of coordination because of the laws forbidding living in the park, which is patrolled by federal officers.
But the protesters bristle at the suggestion the park is their home.
``This is a vigil,'' protester Ellen Thomas says. ``My living accommodations are my personal business,''
Ellen, 52, married William Thomas in the park shortly after joining the vigil in 1984. A Minnesota native, she says she is used to the cold.
The protesters must be careful not to stray too far from the vigil because they say if they wander more than three feet away, it could be designated as an abandoned structure and torn down.
JAIL TIME FOR SOME
Ellen says she has been arrested many times and has spent some time in jail for camping in the park. The protesters' website (http://prop1.org/) lists more than 30 court cases that they have been involved in during their stay at the park.
And the protesters claim that the lawmakers keep changing the rules to try and force them off, noting that when they started the vigil it was on the sidewalk right in front of the north lawn of the White House. It since has been bumped across the street.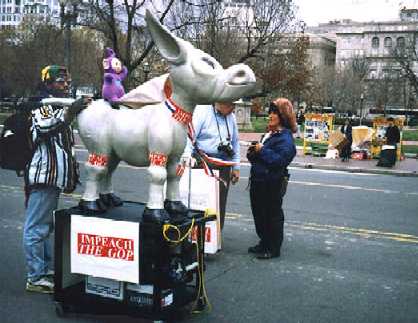 Bundled up in a large blue coat and hood against blustery mid-March winds, Concepcion Picciotto passes out leaflets, trying to raise awareness about the dangers of nuclear weapons. Picciotto, another charter member of the vigil, has slept in the park every night since 1981 except when she is in jail on camping charges.
To protect herself from the weather, Picciotto sometimes crawls under a plastic tarp that also covers her belongings. On most any other city street, the humble accommodations would be called home by the homeless.
But they insist this is their job, not their home. ''I'm not homeless,'' Picciotto says. ``I'm here for a cause. If I want to I can get out of here.''
The protesters try to collect signatures from the tourists and other passers-by in the park on a petition calling for ''disarmament of nuclear weapons and the conversion of the nuclear and other arms industries to provide for human and environmental needs,'' according to their website.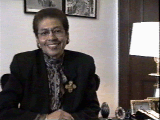 The protesters say they have been successful enough to get their proposition passed as a Washington, D.C., ballot initiative and that D.C. Delegate Eleanor Holmes Norton introduced a bill in the U.S. House of Representatives calling for the elimination of all nuclear weapons.
Ellen Thomas tries to ignore the occasional comments of people who tell her to get a job, saying that she already has a full time one.
``We're working people. We just don't work for money.''