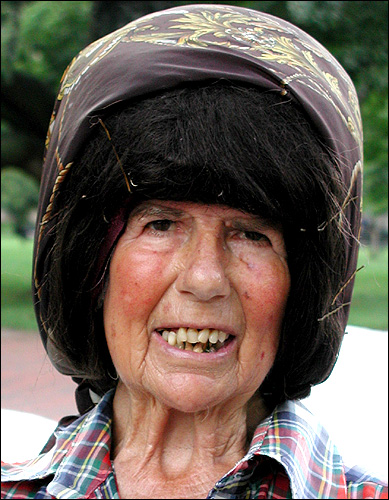 Concepcion Picciotto:
Washington, DC prophet

Photographed August 2003
Washington, DC

Night after night, television journalists assigned to the White House assemble on the front lawn of 1600 Pennsylvania Avenue to deliver their reports to the networks. Their stories and images are carefully worked over. The TV cameras frame the reporters in such a way that viewers catch a glimpse of the White House, dramatically lit, over their left shoulders. As an enduring icon of world power, the President's house makes for good television. If one of these cameras were to pan to the sidewalk across the street from the White House, it would record a very different scene. Here, Concepción "Conchita" Picciotto has made her home for the past 23 years in a makeshift shelter surrounded by signs that urge disarmament, peace, and an end to the madness. It's a different kind of power that lives here: the power of moral clarity.

You can read about Concepción's political views on her website, which includes an interesting autobiography.

Click here for an interview with Conchita.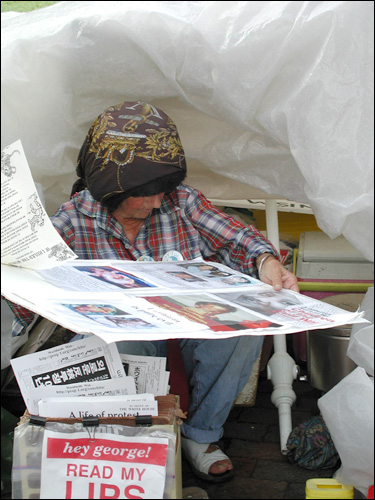 Some of the signs Conchita displays in Lafayette Park:

Stay the course and this will happen to you .... White House peace vigil since 1981. No more Hiroshimas.

White House 24 hr a day antinuclear peace vigil since 1981 maintained by Concepción and W. Thomas. Don't be a lemming. Save yourself. Renounce genocidal weapons.

Ban all nuclear weapons or have a nice doomsday.

Abolish all nuclear weapons and use the money saved to convert nuclear industries and to provide for human needs such as education, health care, housing, food, environmental restoration, and clean energy.