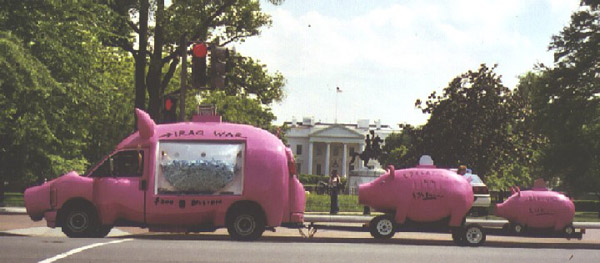 True Majority Pigs Hit Washington D.C.:
Giant Rolling Piggy Banks Spotlight Financial Costs of Iraq War

In Cross-Country Tour, "Pig Mobile" Highlights U.S. Spending on Iraq, Education, and World Hunger
In perhaps the ultimate example of taking a political message to the streets, a blubbery, grunting, and eye-popping pig mobile is rolling across America, and will be cruising downtown NW Washington DC on Thursday, May 6, 2004. Be on the lookout!
The "Pig Mobile," conceived of by Ben Cohen, co-founder of Ben and Jerry's, consists of three different-sized piggy banks strung together to illustrate just how big a financial disaster the Iraq war has turned out to be.
The largest pig (by far) shows the financial cost ($200 billion) <![if !supportFootnotes]>[1]<![endif]> of America's attack on Iraq, including the projected minimum cost of reconstruction. The smaller pig illustrates how much the federal government spends on K-12 education ($34 billion) <![if !supportFootnotes]>[2]<![endif]>. And the third pig, which is a wee little pig, shows America's dedication to lessening world hunger and poverty ($10 billion)<![if !supportFootnotes]>[3]<![endif]>.
These piggies, all built out with striking pink fiberglass and featuring an oinking soundtrack, are pulled by a full-sized Chevy van towing a trailer.
The pig mobile is sponsored by the TrueMajority, a free e-service that monitors Congress. Twice a month, at critical moments, TrueMajority members receive a short e-mail alert about an important issue pending in Washington. By simply clicking "reply", members can send a fax to their Congressperson. D.C.-area members of TrueMajority.org volunteered to drive the protest vehicle in and near Washington, D.C.
"Citizens should be given the facts on the costs of the Iraq war," says Ben Cohen, co-founder of Ben and Jerry's and President of the TrueMajority. "And there's no better way to understand the giant numbers involved than to compare them to spending on stuff we all care about-like schools and world hunger."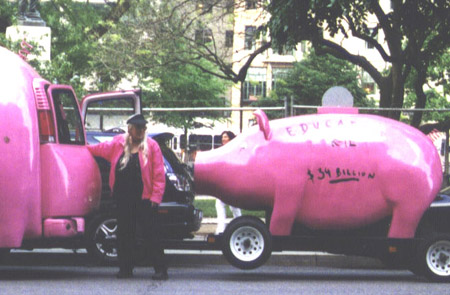 Contact: Ellen Thomas, 202-682-4282 - Local Driver
Home
<![if !supportFootnotes]>
---
<![endif]>