* (General damage caused by the event was not included. only includes specific instances of damage observed by officer)
Other cooperating agencies reporting Rainbow Gathering-related statistics included Ridgway Borough Police Department, Sheffield Township Police Department, Johnsonburg Borough Police Department, Pennsylvania Game Commission and Warren City Police Department.

         Type                      Number

Misdemeanor Arrests                     5
Felony Arrests                          4
Traffic Citations                      40
Non-traffic Citations                  30
Warnings                               22
Drug Possession 
Incidents/Citations                     3
Weapon Incidents                        0
Driving Under the Influence Incidents   4
Motor Vehicle Accidents                10
Medical Emergencies                     0
Juveniles Recovered                     2
Game and Fish Violations                5
Field Interviews                       43
Other Responses and Public Assists     31
23

---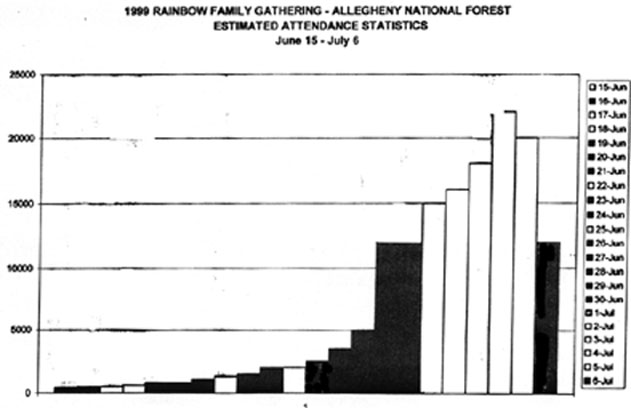 ---
Incidents of Interest or Significance Occurring at or Related to the Rainbow Family Gathering
6/14 - PSP arrested two subjects for grand theft auto in two separate recoveries of stolen vehicles.
6/18 - Ridgway PD took a report of a van stolen from a Texas gathering participant by another participant in the Ridgway area.
6/21 - Two subjects cited by FS for commercial sale of items at gathering (jewelry, sandwiches).
6/20 - Gunshots heard by LEO's coming from the area of Bus Village.
6/23 - Stolen vehicle recovered by PSP, one arrest.
6/26 - FS and PSP officers engaged in short foot pursuit of a subject resisting PSP arrest, resulting in minor injuries to PSP officer.
6/27 - FS officer forced to use OC pepper spray on aggressive dog at gathering.
PSP officer attempted traffic stop on pickup truck shuttling bed load of people in gathering area for traffic violation (Amnesty 2000 truck and driver). Driver failed to yield and continued down road. A PSP officer ahead blocked the road, however the driver did not slow and continued to approach the standing officer head-on, finally stopping immediately in front of the officer only after he drew his gun in his defense. Driver arrested for eluding an officer, aggravated assault, and reckless endangerment.
6/29 - PSP officers arrested a gathering participant located in Ridgway. Female subject was wanted on felony probation violations PSP assisted FS with recovery of runaway 15 year-old girl located in a vehicle stopped for careless driving. Girl advised she had attended the gathering and taken several doses of LSD the previous night.
6/30 - FS recovered stolen vehicle at gathering.
7/1 - FS officers patrolling the Bus Village area by vehicle are stopped as Amnesty 2000 members pull their vehicles (used at other times as gathering shuttles) across the road and park and leave them to intentionally block the officers. Despite lengthy discussion, they refuse to move the vehicles and a crowd gathered as FS officers arrest one of the drivers, requiring an emergency backup by other officers.. Man is charged and pleads guilty to interfering with federal officers and during sentencing, is prohibited from returning to the Allegheny NF until July 12.
7/2 - PSP received report from gathering participant that he had gotten ride from Utah in a van with another participant. While unloading the van, the van driver left with $2,800 of the man's musical instruments. FS received verbal report from two subjects leaving the gathering in disgust after they had property stolen from their camp, and after a participant who agreed to watch their property left with their wallets, cash and other valuables.
24

---
7/2 - PSP contacted and cited one 17 year-old girl for underage alcohol consumption and her 23 year-old companion for disorderly conduct public intoxication. PSP officers attempted to reunite two 14 year old girls present without their parent's permission at the gathering 2 girls were removed from the site after a crowd of abusive rainbows began to form.
7/3 - Amnesty 2000 member/gathering shuttle driver subject previously convicted on charges of interfering with FS officers and banned from entering the Allegheny NF until July 12 is arrested after he is observed inside the gathering on this date as a passenger in a vehicle. The driver of the vehicle is also arrested by FS for interfering with the arrest after he locks the vehicle and physically interferes with the arrest of the other subject. Both subjects are later sentenced on the charges to jail time and fines.
7/4 - PSP making traffic stop of vehicle associated with gathering arrested a NY fugitive and two others on drug possession charges after quantities of suspected diazapam, opium, marijuana and LSD are found in their car. PSP took report of wallet stolen in gathering area PSP removed sign along main road into gathering stating "Show Me Your Tits" after receiving citizen complaint.
7/5 - PSP took report from gathering participant regarding theft of $7,000 in religious artifacts from him at the gathering.
7/6 - PSP mounted officers coordinated helicopter medivac from Kiddie Village area of snakebite victim in serious condition. Victim was being treated at CALM but was not reported to EMS officials. After a confidential tip regarding his presence was received from a gathering participant, he was assessed and air evacuated. FS assists PSP officers with head-on collision on highway leaving the gathering area.
7/7 - PSP handled three car collision with minor injures caused by gathering participant attempting to leave the gathering on the highway with no brakes.
7/8 - FS officers took report from a male and female juvenile who stated they were stopped and physically assaulted in the area of A-Camp as they drove out of the gathering because they were told they were going too fast. Near midnight, an intoxicated man was found parked in a car on the main access road to the gathering with a smashed windshield and head injuries. He stated to FS and PSP officers that he had left after his car and he were assaulted by several men at A-Camp. PSP located man walking naked and in delusional state down the main access road and take him to the hospital. PSP observed and obtained medical care for juvenile observed ingesting "Gold Bond" cream.
Issues and Concerns
- A significant amount of controlled substance use continues to occur at the Rainbow Family Gatherings on National Forest System lands. Law enforcement personnel documented 45 drug-related incidents during the reporting period. However, widespread and open use of marijuana throughout the gathering, and persons under the influence of illegal substance, were observed by Forest Service and other agency officials.

25

---
- Weapons were observed in the gathering area. Five incidents involving firearms were reported, one man contacted was in possession of a dangerous spiked knife, and innumerable large knives were observed on the persons of gathering participants. This presented a serious safety concern to law enforcement personnel assigned to the incident. As a result of these reports and difficult access [Deleted - 7(E)] Subjects obviously the victim of a fight were observed in A-Camp and reports were received of several other violent incidents there.
- Many Rainbow Family members continue to exhibit aggressive and abusive behavior towards law enforcement officers. Thirteen cases of interference with Forest Service officers were reported due to their severe nature or arrest. Many other Family members expressed unhappiness and fear with this behavior and the criminal element that attended this year's gathering. Many left the gathering early for this reason. Many participants did not participate in the July 4th Prayer for World Peace ceremony at the main circle area. This aggressive behavior continues to create officer safety concerns and increases the number of officers and units required to patrol in order to provide for safety. This was especially true at this site as the main vehicle access points for the gathering were on very narrow, heavily vegetated one-lane roads which in the normal heavy traffic made access for officers and their backup a concern.
- Officers observed the presence of gathering participants espousing white supremacist views as well as suspected members of local Patriot groups. An additional small group present self-identified itself as "Amnesty 2000". Some members of this group actively participated in parking and shuttle activities for the Family. but remained extremely abusive to law enforcement officers. One member of this group was arrested by PSP as he was driving a shuttle truck full of people after he failed to yield to the officer on a traffic stop then nearly hit a state officer attempting to block his route at gunpoint. A second member of this group was arrested after he moved one of the group's shuttle vehicles in front of a patrolling FS law enforcement vehicle and refused to move it. Observations were also made by officers of two large military-type vehicles containing many men in camouflage clothing seen driving in the A-Camp area on at least two occasions. [Deleted - 7(E)]
- Natural resources and government property continue to be impacted significantly by Rainbow Family Gatherings. Forest Service law enforcement personnel reported 55 related violations. These included timber and other forest products, FS property, occupancy and use, fire, littering, and other sanitation related violations. As Forest Service officers did not patrol the main gathering area, nor did they document individual impacts that were part of the large overall resource and occupancy violations of the gathering, the reported violations are a small portion of overall violations.
- The Rainbow Family continues to refuse to comply with federal regulations governing large noncommercial group use of National Forest System lands. They state it is their Constitutional First Amendment right to gather on National Forest System lands. Three Rainbow Family members of this gathering were issued Violation Notices by the Forest Service for failure to obtain the required special use permit. The case is pending.
- As indicated by the "Other Cooperating Agency" statistics above and some of the statistics reflected in those for the Pennsylvania State Police, local communities enroute to or in the area of the gathering continue to be significantly impacted by the Rainbow Family Gatherings. Incidents handled by law enforcement agencies include theft, panhandling, disturbances, traffic congestion and traffic violations and public nudity.
26

---
- Traffic safety, parking sad blocking of Forest Service roads was a significant problem et this years gathering. Forest Service law enforcement personnel documented 739 related violations This included careless and reckless vehicle operation, speeding, vehicle equipment violations, use of vehicles in closure areas, blocking or interfering with use of Forest Service roads and gates, and improper parking. Seventeen vehicles were towed by the Forest Service out of the gathering area after at least 24 hours notice for parking in areas closed to parking and for blocking or interfering with use of public roads. The Rainbow Family's general lack of planned suitable parking locations and personnel committed to assist with parking these vehicles contributed to this problem. An estimated 8-9000 vehicles were driven to this years gathering.
- Despite advance notice given to Family members that a large number of natural gas pipeline and well facilities were located in the area, no apparent action was taken by the Family in most cases to protect them from vehicle damage or to protect participants from gas ruptures, explosions or fires within their gathering. The Forest imposed an emergency order prohibiting camping and parking within 200' of any gas facility based on hazard assessment advice from local gas company officials Gathering participants were found camped and parked immediately adjacent to leaking pipes for which flame or spark could have resulted in fire or explosion under the right environmental conditions.
- Unaccompanied juveniles and juvenile runaways attending Rainbow Family gatherings continues to be a problem. Eight runaways were recovered and returned to their parents.
- Heavy alcohol use occurred again at this year's gathering. As observed from areas accessible by patrol vehicle, alcohol use was heaviest in the A-camp area, but occurred throughout the gathering. One beer distributor in nearby Ridgway reported that from late June through at least July 8, gathering members paying over 54,000 cash they stated was gained by "passing the Magic Hat" at the gathering, purchased a total of 96 "half barrels" kegs of beer (equivalent to 672 cases). Many contacts were made by officers with juveniles possessing or consuming alcohol, and many juveniles were seen in the A-camp area during evening "parties" where heavy and open alcohol use was occurring. After July 4, a self-described "rave" party developed near the main parking area and continued for over a week. This party had amplified music, heavy alcohol use, a large presence of minors, and reported presence of ecstacy, LSD and other drugs.
- [Deleted - 7(E)] the area was regularly patrolled by mounted patrol officers from the Pennsylvania State Police from June 26 to July 11. The mounted patrol once again proved to be extremely successful in providing a patrol presence that can cover large areas within large crowds of people safely.
27

---
Finance
Strategy
Management of this year's incident was again funded in advance at the national level. Law Enforcement and Investigations provided $250,000 for officer overtime and misc. support expenses. National Forest systems provided $250,000 for salaries, overtime, and misc. support expenses. This funding is intended to mitigate impacts on the Region and Forest where the incident occurred. The funding is not necessarily intended to cover the entire management expense. It covers the majority of expenses, and the WO, RO and Forest should be able to cover the rest.
The Team's strategy was to minimize costs by utilizing existing systems such as computers and equipment such as fax machines, telephones and copiers; enrolling volunteers; using local employees as incident personnel; operating from public facilities; utilizing unified command; and routinely re-evaluating the continued need for resources. The team's goal was to control costs and keep them as close as possible to the national funding level to minimize impacts on the Region and Forest.

Issues/Concerns:

- The total costs of the incident will be nearly impossible to capture because so many items were borrowed or used at no cost, and many salary costs are not directly charged to the incident.

- There are several management code issues. Having separate codes for LE&I and for NFS with overrides sometimes prohibits splitting costs. It would be better to have one "project'' code similar to project fires. There will be charges against the fund early in the year when it is not possible to accurately predict which National Forest will be impacted. Changing management codes several times is confusing and incurs accounting costs. Having management codes with overrides is very costly from an accounting perspective, especially when having to reconcile split pay-period salaries. Two management codes also seemed to cause some problems for the dispatch/coordination center system; in fact the incident was assigned two incident numbers.

- The treatment of AUO for law enforcement officers and of maximum pay limitations for National Forest Systems employees was addressed at the national level. The declaration of a non-natural disaster emergency by the Secretary facilitated dealing with many of these issues.

- The Secretary of Agriculture's declaration of emergency for this event allowed flexibility in granting time away from this incident this year.

28

---
Financial Summary:
Cost Analysis
LE&I NFS
Preliminary Estimates $250, 000 4266.540
To Date 6/15 N/A 56,910
To Date 6/22 76,750 107,059
To Date 6/30 143,750 160,884
To Date 7/6 208,750 200,909
To Date 7/13 244,250 238,529
Estimate 7/18 252,000 245,509
Projected Rehabilitation Costs **
Total Costs $252,000
**The Forest expects the Rainbow Family to complete rehabilitation of the impacted areas. However, there will be costs associated with rehabilitation which are unlikely to be covered by the Family. Additionally, once the Family has departed, any failures are likely to be funded by the Forest.
29

---
Planning
Incident Personnel
In addition to the National team, there were several overhead positions assigned to the incident. Some were filled by resource orders from across the National Forest System, some by local Forest personnel, and others by retired Forest Service employees and their spouses. Allegheny National Forest personnel were assigned to all resource specialist positions.
[Deleted - 7(E)] Approximately half of the overhead personnel were local Forest employees assigned to the incident on a part time basis.

Planning Section Staffing

The Planning Section is responsible for the tracking of incident resources, development of periodic Incident Action Plans, facilitation of briefings and meetings, mapping of the incident to meet a variety of needs, dissemination of the Daily Situation Report, monitoring and attempted mitigation of environmental effects, and compilation of all incident documentation. In addition to the Planning Section Chief, the unit was staffed by a Documentation Unit Leader, a part-time Situation Unit Leader, several Resource Specialists, and a part time GIS specialist.
The Documentation Unit Leader only devoted a portion of her time to the Planning Section. Most of her focus was on reviewing, summarizing and filing all law enforcement documentation. A member of the resource team working on mitigation within the Gathering also performed the duties of the Situation Unit Leader, gathering information and working with the forest GIS specialists to produce a variety of maps. The lead Resource Specialist, the Allegheny Forest Soil Scientist, worked with a variety of other resource professionals on a daily basis in an attempt to lessen the environmental effects of the event.

Incident Action Plans

The Planning Section developed periodic Incident Action Plans (lAPs) starting on 6/17. National Incident Command System forms were edited to accommodate the differences between wildfire LAPS and large group event IAPs. A binder for each unit was developed to store the current LAP, safety information, information on law enforcement procedures, and attempt-to-locate information.

Environmental Effects

Rainbow family members made initial contact with personnel from the Allegheny National Forest in mid April to discuss potential site selection for the 1999 Gathering. Although the final site was not determined until early June, the Forest immediately began working on a strategy to minimize potential environmental effects. The strategy included:
1) identification of resource issues/concerns in the surrounding area
2) pre-incident surveys to assess the current condition of the site
3) notification of gathering participants of resource concerns and expected mitigations
4) continual monitoring of environmental effects during the event
5) development of a rehabilitation plan to return the site to near pre-gathering conditions
6) post-incident monitoring
30

---
Resource Issues/Concerns
The following resource issues/concerns were identified during assessment of the Bear Creek area:

- Water Quality: The area selected for the 1999 gathering is in the Bear Creek drainage. Bear Creek is a perennial stream which flows into the Clarion River, which eventually enters the Allegheny River. There are several smaller streams which intersect Bear Creek and include Italian Shanty Run, Shanty Run, Pole Road Run, Otter Run and Little Otter Run. There are also several springs, beaver ponds, and wet meadows within the Gathering area. The impact of up to 20,000 people and their pets on water quality in the area could be significant. Slit trenches for the disposal of human waste have been used at past gatherings. Sediment load in affected stream courses could be increased due to vehicle traffic, trail development and use, direct stream bank disturbance, and in-stream water use.

- Riparian Protection: The potential exists for stream crossings, water system development and trampling of riparian vegetation to have negative effects on Riparian areas.

- Roads: Thousands of vehicles were expected to access the gathering site. Several of the interior access routes are unsurfaced and could suffer significant damage from the large increase in traffic.. Some of these short spurs are currently closed to vehicular traffic through the use of water bars and berms. If accessed by gathering participants, equipment may be needed to re-close the roads.

- Interaction With Other Forest Visitors: Bear Creek Recreation Area is a popular destination for many local residents. These visitors could be displaced and conflicts may occur.

- Wildlife and Plant Species of Concern: Several species of concern are known to inhabit the Bear Creek Drainage. The Indiana Bat, which is classified as endangered under the Endangered Species Act, has been found in the area. The timber rattlesnake and the northern water shrew, which are sensitive Species for the Allegheny National Forest, are also known to inhabit the Bear Creek drainage Small communities of pink lady's slipper and other rare plants occur in the area. In addition, the gathering is planned during fawning season, and nesting raptors and great blue heron are known to exist in the area. Disturbance to these species by gathering attendees and dogs is likely to occur.

- Wildlife Food Plots: There are several wildlife food plots in the area that have been developed and are maintained through partnerships with outside agencies and organizations. These open areas arc likely to be severely damaged by vehicle traffic and parking.

- Heritage Resources: Historic logging camps and railroad grades exist in the Bear Creek drainage. Foot traffic and the digging of fire pits, latrines, etc. could adversely effect the condition and integrity of the sites in question.

- Litter: Man-made material (including vehicles) left behind by nearly 20,000 individuals could be a huge problem if not removed by the gathering participants.

31

---
Pre-incident Surveys
The following pre-incident surveys and assessments were conducted by Allegheny National Forest personnel (see Appendix 6 for survey documentation):

- Field reviews by a wildlife biologist archaeologist, engineer, and soil scientist identified potential impacts to the resources in the area

- Archaeological reconnaissance was conducted to locate historic sites and flag them for protection.

- Water sampling was begun on Bear Creek before significant numbers of individuals were on site.

- Photo and video documentation of pre-existing conditions was conducted.

Notification of Resource Concerns and Monitoring During the Incident

In early June, the District Ranger and resource specialists made contact with the perceived leaders of the Family to communicate resource concerns and expected mitigation measures. These contacts continued throughout the gathering and were generally received very well by Family members. The site was visited almost daily by resource specialists to monitor the environmental effects of the gathering and to work with the Family members to minimize the effects. Photos were taken regularly to document the increasing effects, and also to document actions that Family members had implemented to reduce those effects. The following is a summary of effects to the site noted through July 10, 1999:

- Water Quality: Water samples from Bear Creek were taken twice weekly during the event. Sampling locations included a site above the Bear Creek Recreation Area (the control), a site within the gathering (just below the most significantly impacted area), and a site downstream of any impacted area. The samples were analyzed for fecal coliform count in parts per 100 ml. (10 to 1000/100 ml. is typical for sampling results in controls taken throughout the State). The results to date of the water sampling are displayed in Appendix 7.

- Riparian Protection: During the gathering, family members continually stressed protection of the riparian areas. These areas were flagged and signed by the family in an attempt to prevent impacts. The most serious impacts to the riparian ecosystem were: trails crossing wet areas that became compacted, suffered soil displacement and puddling, and loss of vegetation; fire pits constructed within the riparian areas; disturbance and loss of vegetation around stream crossings; swimming in streams stirred up sedimentation and may have added additional fecal coliform to the stream flow; and temporary displacement of wildlife inhabiting the riparian areas.

- Roads: Heavy traffic on the main access routes (FR 135 and 136) resulted in further loss of fines from the road surface. The last half mile of FR 393 accessing Bus Village is unsurfaced and suffered rutting and displacement. Vehicle traffic past the pre-existing road blocks was noted.

- Interaction With Other Forest Visitors: The Bear Creek Recreation Area was completely occupied with Rainbow family members early in June, which prevented use of the area by local residents. Occupancy continued through mid-July. No conflicts were noted

32

---
- Wildlife and Plant Species of Concerns: Family members reported several sightings of rattlesnakes during the gathering. One participant was bitten and transported to a local medical facility. One Family member reported that a dog had allegedly captured and killed an northern water shrew. The site has been reviewed by the Pennsylvania Game Commission. In their opinion, the "damage to the area wildlife populations was devastating and will be felt for years." "Many wildlife species were unable to complete their reproduction cycle because of human disturbance and/or nest destruction by either the people or the thousands of dogs they brought with them."
- Wildlife Food Plots: The food plots located off FR 161 have been heavily impacted by vehicular traffic and parking. Rehabilitation will be needed.
- Heritage Resources: Coordination with family members eased major impacts to the historic sites. However, some fire pits were constructed and a community shower system was installed within the site boundaries and may have affected the integrity of the site.
- Litter: Significant amounts of litter was noted from the early stages of the gathering in all areas accessible by vehicles In the main meadow, litter did not seem to be an issue throughout most of the event. Several recycling centers were located throughout the site. However, a walk-through on 7/10 noted several abandoned campsites where litter was scattered. Clean-up of the area was in progress, but significant amounts of foreign material will need to be removed. A review of "A-Camp" and Bus Village on 7/11 noted litter scattered throughout the areas.
Site Rehabilitation
Resource specialists from the Allegheny National Forest have developed a site and resource rehabilitation plan (see Appendix 8). The plan outlines the objectives and expected results of the cleanup and rehabilitation process. All rehabilitation activities are expected to be completed by August 1, 1999.
The District Ranger of the Marienville Ranger District met with representatives of the Family several times early in the process to discuss rehabilitation of the site. The District Ranger presented the final rehabilitation plan to family members on July 5th; additional copies of the plan were requested and provided to other members of the family on July 10th. The Family was also notified that if rehabilitation was not completed or was not effective, the Forest Service would complete the project and bill the Rainbow Family for all costs incurred by the Government.

Post-Incident Monitoring

The gathering site covered an area of approximately eight square miles. Although the rehabilitation plan identifies many of the site-specific rehabilitation needs. additional reconnaissance and design work will be necessary after most of the incident participants have departed and the actual site impacts can be determined District resource personnel have begun the identification of all site-specific rehab needs and will continue to work with the Family during the rehabilitation process. Upon completion of site cleanup and rehabilitation, the Forest will prepare a final report documenting specifics on pre- and post-incident conditions and all monitoring activities.

33

---
The following post-incident monitoring activities are planned:
Water quality monitoring will continue twice weekly through 7/10, then will be conducted again through a rainy period to define the longevity of the effects to water quality. Final testing will be completed in September.

- Photo and video documentation will continue to obtain visual documentation of rehabilitation efforts and actual affects to the site. (See Appendix 9 for photo documentation of site condition as of July 10.)

- Resource specialists will continue to work with rehab personnel to design site-specific rehabilitation needs.

34

---
Logistics
Objectives:
The Logistics Section was staffed to provide service and support to all incident personnel and, to some degree, cooperators. The Communications unit was separated from Logistics and made a full staff section. The Medical Unit was administered by the Safety Officer.

Issues/Concerns:

- Provision of supplemental food and liquids was addressed through a job hazard analysis which considered length of shift, remote duty location, high humidity, and high temperatures. Documentation was provided to the Allegheny NF Contracting Officer

- There was close coordination was between the team and the Forest Supervisor prior to the incident regarding ICP facility needs. Early selection of the Sheffield facility made it possible to install infrastructure and have the facility on line when the team arrived. Its central location also served cooperators well. Utilizing un-used government owned facilities saved expense.

- Dispatch information provided to the forest was efficiently transmitted through the dispatch system to the employee being requested. Both mobilization and demobilization were somewhat rough because traveling employees did not always communicate their locations and travel plans.

- Cache supply orders were placed early (May), yet some cache supply items were shipped by air freight or overnight mail creating an unnecessary expense

Strategy

The supply unit actually started operations about 2 months before mobilization. Many of the specialty items for law enforcement were procured, then transported with incident personnel. This enabled the team to start work immediately with the required items on hand.
Personnel were mobilized through routine channels, utilizing the dispatch/coordination center network. Law Enforcement Officers and Special Agents were ordered on detail request forms as technical specialists. Ibis system works well, and should be used for future mobilizations.
Lodging rates were paid by the Finance section rather than by individuals. This saved a great deal on total costs through tax exemption. We expected that by telling motel proprietors we would have several people for several days, we could obtain very favorable rates. This was not the case in this geographic area The overall lodging expense for 1999 was about 12 percent higher per room/night than 1998.

35

---
Results:
The ICP facility was obtained at no charge. Cleaning services were negotiated and the carpets cleaned upon exit

- An operations area was established at Owls Nest on a no charge agreement.

- The Supply Unit provided for cooperator as well as Forest Service personnel.

- Fruits and liquids were procured on a daily basis to minimize waste.

- Some office supplies were purchased through GSA, and team members brought large stocks of office supplies with them.

The Eastern Region cache supplied furniture, ice chests, garage cans, and other items which were returned for credit after use.

36

---
Communications
Summary
In the organizational structure of the National Incident Management Team, the communications position is a staff position reporting directly to the Incident Commander rather than the Logistics Chief. As a staff member, the Communications Section Chief has a closer working relationship with the rest of the team as team members come directly to the Communications Section Chief for assistance. It is important to mention that the Communications Section Chief and the Communications Technician are Forest Service employees whose primary field is communications.

Objectives

The Communications Section provides optimum support to our field officers and staff. This Section also takes the lead in providing complete telephone, radio, computer hardware, software and modem support, and facsimile (FAX) lines and equipment. Although all communications are important to the individual user, the most important function of the Communications Section is to install a radio system which will support the entire Incident. Communications Section responsibilities include but are not limited to:

- Install repeaters, base stations, antennas and coax cable and provide power to this equipment (AC power, solar, battery, etc.).

- Provide secondary backup equipment in ease of failure of the primary equipment.

- Program mobiles and portables, provide spare mobiles and portables in case of failure of the
primary unit.

- Issue portable radios to other agencies which need to operate on the Incident Radio System.

- Provide telephone communications at the ICP, including installing a telephone system. The minimum would be the installation of single line telephones, fax machines and modem lines.

- Install printers, computer equipment, fax machines, etc., for the Team.

Radio Systems & Equipment

In preceding years, radios and radio frequency clearances have been provided by the National Incident Radio Support Cache (NIRSC), located in Boise, Idaho. When the National Team concept was created, it became apparent that a new process was required. The Communications Section needed FOIA- protected frequencies and equipment that provided more adaptability and power output than the equipment provided by the NIRSC. [Deleted - 7(e)] These radio frequencies are area sensitive and for use during short term operations Coordination and cooperation from other agencies to allow us to use these radio is managed by Mr. Thomison.

37

---
The Communication Team provided radio repeaters, antennas, coax cable, and spare mobile radios and personal portable radios used during the event. Most of the equipment which included six repeaters, mobile and personal portable radios, scanners, printers, antenna`, coax cable, batteries, recording equipment, etc., was provided by the Communications Team and transported by trailer. The repeater systems had unique frequencies supplied by the Washington Office. Each repeater was programmed with three separate frequency pairs and each zone had a backup repeater assigned in case of failure of the primary unit.
[Deleted - 7(E)] Neither set of radios were needed during this incident.
Wildland fires, such as those in 1998, can cause the demand for radio equipment to be extremely high. The preplanning efforts in providing the team with its own radio equipment has proved to be a crucial factor in completing the objective. The estimated cost for the equipment provided by the Communications Unit for use on this incident is approximately $35,000. This includes document scanners, fax machines, telephone equipment, antennas, repeater radios, base station radios, mobile and personal portable radios, shredders, recording equipment for radio circuits and telephone circuits, cameras, binoculars, laptop computers and printers. Some of this equipment, such as additional laptop computers, printers, and shredders were provided by individual Team members for their required tasks. The cost of equipment provided by Team members is not included with the total communications cost.
The Radio system consisted of eighteen channels. Many of the channels were assigned on a "just-in-case" basis. The primary means of voice communication between the field units and the ICP dispatchers was on he Zone one repeater system. The Zone two repeater was used for backup in case the Zone one repeater failed. The Zone three repeater system was not needed. There were two command simplex channels and two tactical channels for car-to-car communications. These six channels were assigned unique frequencies, available only for this incident. These frequencies are FOIA protected and were never published in the Operations Plan.
A cooperative agreement was established with the Pennsylvania State Police to use their dispatch and car to car frequencies, as well as the Elk County and Ridgway police channels. These were backup channels to be used in case of failure of the primary communications channel (Zone 1). We installed one channel for emergency to communications with the forest, and one channel for emergency air-to-ground communications.
Attempts to provide radio coverage between the ICP and the field units failed. After working unsuccessfully for six days to provide a quality, reliable link, we moved the dispatch unit to the 911 EMS Center in Ridgway. The only link back to the ICP was by telephone. This did not seem to cause any problems and, in most cases, was beneficial because it limited the number of visitors normally associated with the dispatch center. [Deleted - 7(E)] The terrain was characterized by low lying valleys, many propane gas lines and wells, and heavy vegetation. There were times when the radio systems worked extremely well, and there were times it did not work at all. Sunspot activity was at a record high during this period, but no single cause for the problems was readily identified.

38

---
Computer and other telecommunications equipment
The local telephone company could only provide us with eight (8) telephone lines. Five lines were used in a telephone system installed by the team, two telephone lines were dedicated to fax machines and one telephone line was dedicated to the NCIC equipment. The PSP staff also shared our telephone system. After moving the dispatch function to the Ridgway 911 EMS Center, the NCIC line was also connected to the telephone system.
During the 1998 incident, we had 14 telephone lines. The 14 lines were considered inadequate for our needs. By utilizing a telephone system, we were able to get by with the 8 total telephone lines. This shows how important a telephone system can be to the team. It is clear that if the dispatch center had remained at the ICP, the number of phone lines available to us would have been inadequate. The Communications Section prepared for more lines by bringing a Mitel SX-20 telephone system. This system is configured for 8 trunks (lines) and 24 extensions.
Incident Team members brought nine laptop computers and four small printers. The Communications Section brought two laptop computers and three large printers which could be used by support staff personnel. The Allegheny National Forest Supervisor's Office provided one personal computer, primarily used for Law Enforcement documentation.
The Communications Section also brought telephones, extension cables and provided cabling which ran between buildings. The Incident Team used two fax machines, one of which was purchased during this incident 10 Citizen Band radios were purchased for communications with gathering attendees in the event of an emergency. The 91 I EMS Center provided the Team with 15 pagers at no cost to the government. These were made available to key team members of the LEO staff and the IC Team.

Dispatch Operations

Dispatch operations began in early June from the Sheffield Work Center. The office is located at the foot of a rather large mountain (in a hole) and it was impossible for us to establish a reliable radio net between the ICP and our field units. Attempts to combine the Forest Service dispatch operations with the operations of the Pennsylvania State Police were not successful. The radio system would work well one day and not at all the next day. The radio traffic between the PSP units and our LEO units rapidly overloaded our capabilities. Trying to provide dispatch communications for two large organizations using our radio nets is something we should not attempt again.
At the offer of the EMS Director, Forest Service dispatch operations moved to the 91 I Emergency Management Services Center at Ridgway. The PSP dispatch moved to their Ridgway Barracks and set up their own system. Both operation centers worked very well at these separate locations. We had good communications between the field units and the dispatch centers, and a hot line telephone system for dispatcher from each agency to reach each other quickly. The 911 EMS Center provided an excellent work environment, additional equipment and backup dispatchers in case they were needed. The National Crime Information Center (NCIC) line was already installed, providing optimum service for processing license and car information requests from the officers.
Although it is not necessary to maintain the dispatch center at the ICP, initial attempts will always be made to try to establish the radio networks between the designated ICP and the operational areas. Communications was originally staffed with two dispatcher. Two more were added when 24 hour operations began. The lead dispatcher has previous experience with Rainbow family gatherings and her experience in setting up the dispatch center has been invaluable.

39

---
Problem Areas
There is a demonstrated need to establish a cadre of dispatchers that can work a Law Enforcement-oriented detail. Several schools offer courses which can prepare our dispatchers for this type of event. Dispatchers need to be familiar with and capable of operating the NCIC circuit. During this incident, a total of four dispatchers are necessary to ensure thorough documentation in the logs and quick response to the radio calls. There should be a minimum of six dispatchers trained in case something prevents one from being able to attend the gathering.
The Communications Unit has stressed, both at last year's gathering and in pre-incident information letters that officers must come fully equipped with functional radio equipment. For the 1999 gathering, one officer arrived without a vehicle radio antenna, one officer arrived with a broken mobile microphone, one officer arrived with a 2 watt personal portable radio and one officer had a broken personal portable radio.
During the incident, several of the mobile radios became inoperable and had to be replaced with our spare 50 watt King radios. These King radios are not as effective as their 100 watt Midland radios. While repairing the mobile radios, it was clear that the wiring for a great deal of equipment in these vehicles was wired from a single source battery. The wiring harnesses, the charging units for the vehicles, and the batteries should be more closely examined for safety. All Law Enforcement officers working this incident should have 100 watt programmable mobile radios installed in their vehicles. During the 1999 incident, the officers with this type of radio installed in their vehicle were more able to communicate than the officers arriving with 50 watt mobile radios installed.
In pre-incident letters to the assigned officers, all officers were instructed to bring rechargeable batteries for the handheld radios. Some complied, some did not. Most of the batteries being used were over two years old, some were as old as ten years. The life of a rechargeable battery is approximately three years. After three years, rechargeable batteries should be discarded or recycled. The rechargeable battery is much more efficient than the clam shells that use the double A batteries. The clam shell type battery should be used only as a last resort.
One medivac flight occurred during, the incident. Although we had an designated aircraft frequency operational, it was not being monitored by the ICP dispatchers. This net was set up for our field units to bring in and coordinate helicopter and small planes over the incident. It is apparent that we need to set up an air safety circuit which can be used by helicopters and small planes flying over the incident. Fortunately, our dispatchers provided the medivac helicopter with the working frequencies and we were able to monitor and direct this emergency flight.

40

---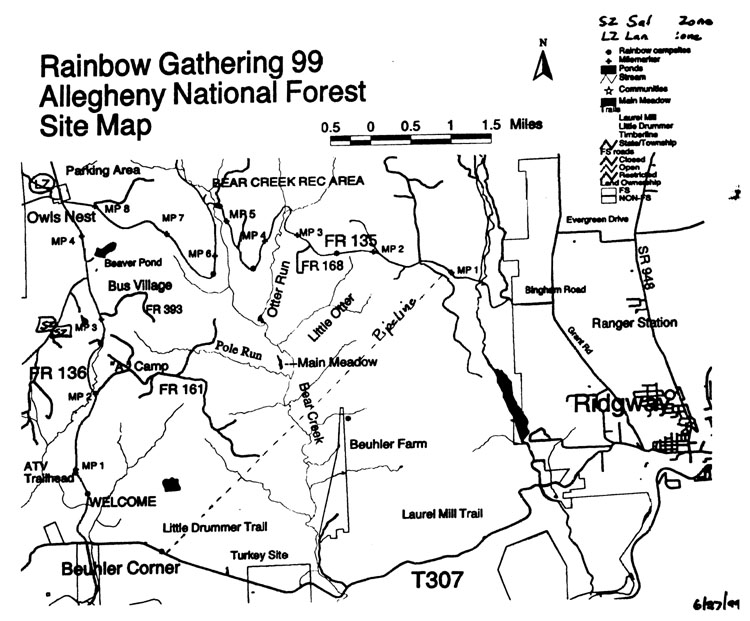 ---