<![if !vml]>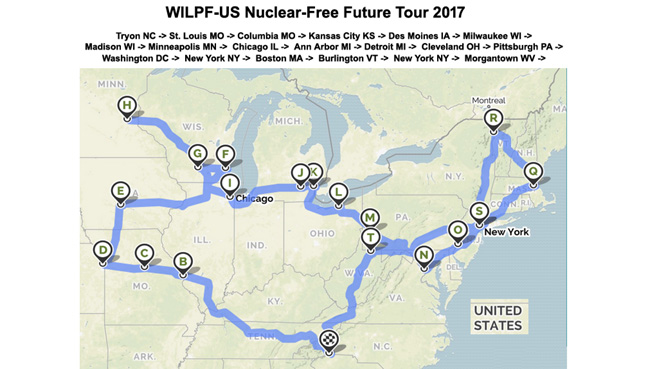 <![endif]>WILPF Nuclear-Free Future Tour April 2 - September 24, 2017
Reporting on travels in 2017.... (Click on city names for photos and petitions. I'd appreciate some help naming the faces and writing the memories! Ellen Thomas)
Cities Visited ... Speaking to Legislators ... Resources ... 2016 NFF Tour
On the tour, Ellen Thomas and Odile Hugonot-Haber spoke to numerous groups, asking Members of the US House of Representatives to introduce and pass legislation to abolish nuclear weapons and move the money from nuclear weapons industries to environmental cleanup, conversion of the war industries, carbon-free, nuclear-free energy sources, and other human needs, and participating in the historic events surrounding the UN nuclear weapons ban treaty.  The subjects of the talks were  –
1 - Join Eleanor Holmes Norton in reintroducing the Nuclear Weapons Abolition and Economic and Energy Conversion Act in the 115th Congress.
Ms. Norton has introduced this bill each session of Congress between 1994 and 2015-16 - see. She has been introducing this legislation for 23 years, gaining a variety of co-sponsors, including John Lewis, Raul Grijalva, and Lacy Clay in the 114th Congress, who all promised to co-sponsor in the 115th, and Jan Schakowsky of Chicago, who said she would sign in during a meeting this year. Ms. Norton deserves up-front support and we asked that her colleagues have their names on the legislation when reintroduced.  (The bill has been reintroduced in September 2017 as HR-3853.)  Please contact your Representative to ask for co-sponsorship, online via Roots Action and by telephone – 202-224-3121.
2- Please encourage Arizona Rep. Raul Grijalva to introduce the uranium mining moratorium and cleanup bill.   He has been working with Defenders of the Black Hills and others to shut down active uranium mines and clean up the 15,000-plus old uranium mines, which are mostly on Native American lands.  You should also thank Mr. Grijalva for co-sponsoring Eleanor Holmes Norton's nuclear weapons abolition and conversion bill in the 113th and 114th Congress, and now (his staff says) the 115th.
We are asking Senators to introduce similar legislation in the Senate.
3- We are asking both Representatives and Senators to insist the US government enter in good faith into the UN Nuclear Weapons Ban Treaty. See ICANW.org and Reaching Critical Will for updates.  Ask the President and your Senators to sign and ratify the ban treaty via the online WILPF-US petition
4- Ask your legislators to halt the unnecessary and extremely hazardous shipments of highly radioactive liquid materials (HRLM) from Chalk River, Canada to Savannah River Site, South Carolina. The US has not, to our knowledge, required an Environmental Impact Statement or public education about the dangers involved in shipping 100-150 truckloads of HRLM on our nation's highways. We suggest Canada should deal with its own radioactive waste, preferably hardened onsite storage.
5- Help St. Louis, Missouri, move the residents living beside the Manhattan Project radioactive waste at the West Lake Landfill, currently threatened by an underground fire out of control.
6- Investigate and stop the dangerous pollution of the Nolichucky River in Erwin, Tennessee, by Nuclear Fuel Services; insist on a cancer survey and that the NRC rescind the 25-year extension of NFF's license to operate.
7- If you support Senator Markey and Representative Lieu's "Restricting First Use of Nuclear Weapons Act" - S.200 and HR-669 in 2017-18 - don't stop there! Be sure also to support DC Congresswoman Eleanor Holmes Norton's "Nuclear Weapons Abolition and Economic and Energy Conversion Act" in the 115th Congress!  (WILPF-US has chosen not to support the Markey-Lieu bills because NO nuclear weapons are acceptable, and NO war is acceptable, following a long tradition of Women's International League for Peace and Freedom.)
8- Support a Middle East nuclear weapons-free zone, which Odile Hugonot-Haber, co-chair of the WILPF-US Middle East Committee, has been promoting for years.
__________________________________________________________________
Cities Visited ... Speaking to Legislators ... Resources
Cities Visited (click on the city name for photographs and links to videos)
April 2-3 - Johnson City, TN
- Linda Modica, organizer and hostess
- April 2 - 6 pm, St. Mary's Church, 2211 East Lakeview Drive, Johnson City, TN
- April 3 - interview with Park Overall and Linda Modica in Erwin, TN, re Nuclear Fuel Services
April 7-9 - Huntsville, AL - Keep Space For Peace Conference
    - Bruce Gagnon, organizer – see Interview by Ellen Thomas
    - Mary & Newell Witherspoon, hosts
- Report with videos - "Pivot Toward War: US Missile Defense & the Weaponization of Space"
April 21-23 - St Louis MO
    - Joan & Larry Brannigan - hosts
    - April 22 - Earth Day WILPF Booth 10 am to 5 pm
- April 23 - 5 pm Annual Meeting, St. Louis WILPF, St. Louis Ethical Society, 9001 Clayton Rd., Saint Louis, MO 63117
    - 7 pm program - "Let's End the Whole Nuclear Era"
- April 24 - Meet w/ Lacy Clay's aide, Brian Williams - 111 S 10th St, #24.344, St Louis MO 63102 - 314-367-1970 - (wants letter)
April 24-25 - Columbia MO
- Linda Green - organizer
- Julie Donnelly & Tom Lata - hosts
- (April 21, 8:45 am David Lile radio show by phone from Tennessee) -
- April 25 - 5:00 pm KOMU interview by Max Cotton (NBC News)
- 5:45-7 pm - Mark Haim Radio Show -
- 7:30 pm - Talk at the Boone County Government Center, 801 E. Walnut, Columbia MO
- Bill Wickersham also spoke, author of "Confronting Nuclear War"
(From: Linda Green  - "A follow-up to your visit. We used the words of your big banner and supporting handouts of this theme in our Mid-MO WILPF display. You probably have the information that Bill's book is a free download at www.confrontingnuclearwar.com.
Our anti-nuclear war handout is from local activist, Steven Starr's website, www.nucleardarkness.org, along with his write-up on "High-level Nuclear Waste in the Heart of Missouri" about the unsafe storage of over 750 tons of extremely  poisonous "spent" uranium fuel rods at the Callaway nuclear plant, next door to our home county.
Our anti-nuclear plants handout is from www.greenamerica.org, all handouts used by permission. We included info on ICAN's 2017 Nobel Peace Prize for their international campaign to abolish nuclear weapons published at www.theguardian.com.
We also have 4 pages plus a few signatures on your Petition to the U.S. President and U.S. Senate to "Support the Nuclear Weapons Ban Treaty", which we will shortly get into the mail to you.")
April 26-28 - Kansas City KS
- Ann Suellentrop, hostess, 1865 S. Pyle St, Kansas City KS
- April 26 - dinner with Peace Works, including Spencer Graves, Henry and Jane Stoever, Debbie Wallin, Donald Faust, Sharon Lockhart, Daniel Karam
- April 27 - 1:30 pm - Meet with Ethan Patterson, aide to Rep. Kevin Yoder, 3rd District Kansas,
- 7:00 to 8:00pm - KKFI 90.1 FM Radio radio talk show, Mike Murphy
    - Sharon Lockhart - 913-909-5300 - wants to interview et, should call
April 28-May 1 - DesMoines IA
- Jan Corderman, hostess
- April 29 - noon - Iowa State Capitol, Climate Change March and Rally; evening - reception at Jan's
- May 1 - meeting with Congressional staff of Iowa's third district, Rep David Young and Senators Grassley & Ernst
 (Jan Corderman reminisces, "I just about fell off my chair when you carefully explained the nuclear weapons ban treaty that almost every country supported but the US and then you injected your point about our president being such a crazy man (I don't remember the exact words you used). There was a long hush -- none of the staff jumped to defend him -- it was hilarious -- I felt as though those young people were VERY Concerned.")
May 1-3 - Madison WI
- Eleanor White - hostess
- Karen Pope
- 8:00-10 a.m. - "Ending the Whole Nuclear Era" at Gather the Women Breakfast, at Threshold, 2717 Atwood Ave. Madison
- May 3 – visit with Audra Cohen, aide to Rep Mark Pocan, 10 # Doty St, Suite 405, Madison WI 53703 - 609-258-9800 - 1421 Longworth HOB, 202-225-2906 in DC

May 3-4 - Milwaukee WI
- Pamela Richard - hostess
- May 4 - 6:30 pm - First Unitarian Society of Milwaukee, Ogden and Aster Streets
- May 5 - morning lobbying -
- Shirley Ellis - aide to Rep Gwen Moore, 28 N Milwaukee St Suite 3A, Milwaukee, WI 53202 - 414-297-1140
(says in DC contact Chris Goldson, legislative aide)
- Mike Helbick, aide to Senator Tammy Baldwin - 633 W. Wisconsin Ave, Suite 1920, Milwaukee WI 53203 - 414-297-4451
May 5-6 - Minneapolis MN
- Regina Birchem – organizer and hostess
- May 6 - 10:00 am to noon, "Coffee with Ellen Thomas" for a Nuclear-Free Future, Van Cleve Community Center, 901 15th Ave. SE, Minneapolis, MN
- May 7 - 11 am banners at 43rd annual May Day festivities.
May 9-10 - Chicago IL
- Mary Dean - organizer
- Kathy Kelly - hostess –
- 3 pm - meet with Rep Jan Schakowski's aide Leslie Combs - 5533 N Broadway, Chicago IL 60640
- May 10 - morning meetings with legislators
- 9 am - Senator Richard Durbin's aide Tamara Jordan
- 10 am - Senator Tammy Duckworth's aide Leif Anderson, 230 S Dearborn, Suite 3900, Chicago IL 60604 - 312-886-3506
(Said contact James Jarosz in DC, works on nuclear issues. She's on energy an environment committees; David Applegate in IL does energy)
- 6-7:30 pm - "Ending the Nuclear Nightmare", Ellen Thomas and Mary Dean, Chicago Public Library, 6907 N Clark St, South Community Room
<![if !supportLineBreakNewLine]>
<![endif]>
May 11 - Lansing MI
- Terry Link - Co-chair, Peace Education Center - 517-775-2910 - http://possibilitator.blogspot.com 
- Sheila Taylor, hostess
- Evening - Red Cedar Friends Meeting House 1400 Turner Street in Lansing (Old Town).
May 13 - Ann Arbor, MI
- Odile Hugonot-Haber and Alan Haber
- May 13 - 3-5 pm - event 310 S. Ashley, Ann Arbor MI
May 14 – Detroit, MI
- 9-10 am - Hosted by Women Walking Woodward for Peace, UU DETROIT, 4605 Cass Ave, Detroit, MI
- Laura Dewey, Grosse Pointe, MI
May 15 - Port Huron, MI –
- hosts Mike and Ande McCarthy
7 pm - Donald Dodge Auditorium / St. Clair County Administration Building, 200 Grand River Ave., Port Huron, MI
- Kay Cumbow - organizer
- Diane D'Arrigo spoke remotely
May 16 - Cleveland OH
- Linda Park – hostess
- May 16 - 7 pm program with Peace Action, 2592 W. 14th St., Suite 109 - Cleveland, OH 44113 - 216-264-3955
<![if !supportLineBreakNewLine]>
<![endif]>
May 17-19 - Pittsburgh PA
- Edith Bell,
- Eva Havlicsek  - hostess
- Thursday, May 18, 7:30 pm, Friends Meeting House, 4836 Ellsworth Ave, Pittsburgh, "Let's End the Whole Nuclear Era"
- also speaking: Patricia DeMarco - "The Nuclear Option - Ethical Issues and Obligations"
<![if !supportLineBreakNewLine]>
<![endif]>
May 19-26 - Washington DC DC Days -
- Megan Rice - hostess
- May 20 - Lafayette Park, noon to 5 pm - Celebrating the White House Peace Vigilers
<![if !supportLineBreakNewLine]>
<![endif]>
May 26-28 - Philadelphia PA
- Tina Shelton - organizer
- Marlena Santoya - - hostess - WILPF annual luncheon - asking for updates from DC and plans for action at UN in June
June 17-20 – New York
- Ray Acheson, 212-682-1265, Reaching Critical Will, 777 UN Plaza,  6th Floor, New York, NY
- June 17 - March to Ban the Bomb
- June 18, 1-6pm - Peace & Planet Forum: One Struggle, Many Fronts: No Nukes, War, Wall or Warming, 110 Schermerhorn St, Brooklyn, NY
July 27-31 - Chicago IL
- Kathy Kelly, hostess
WILPF Triennial Congress, Congress Coordinator, Chris Wilbeck
- July 27 evening - "Nuclear-Free Future" plenary
<![if !supportLineBreakNewLine]>
<![endif]>
August 3 - 6 - PM - Minneapolis, MN
- Penny Gardner, hostess
Peace and Democracy Conference, Democracy Convention –
- Aug 5 - Workshop, "World Beyond War - Ending the Nuclear Nightmare"
- Aug 6 – filmed Hiroshima Commemoration, Lyndale Park Peace Garden near Lake Harriet
August 25 (and July 7) – Asheville NC
- Mary Olson of Nuclear Information Resource Service presented "Seeds of hope and the UN nuclear weapons ban treaty"
September 22-24 - Washington, DC
- World Beyond War Conference, American University: "War and the Environment."
Filmed Workshop 4: Don't Bank on the Bomb: Divestment Campaign from Corporations Involved in the Manufacture and Maintenance of Nuclear Weapons, with Susi Snyder and Alice Slater.
__________________________________________________________________
Cities Visited ... Speaking to Legislators ... Resources
Here are the key documents used on the tour, which can be printed and shared by all:

WILPF-US Paper Petition to the President and Senate asking for signature and ratification of the UN Treaty for the Prohibition of Nuclear Weapons formalized on September 20, 2017.
Here is the online version which we urge you to also sign, share, and get your organizations to endorse.

WILPF-US Disarm/End Wars Committee Foldover Flyer, Lets End the Whole Nuclear Era

About Eleanor Holmes Norton's Nuclear Weapons Abolition and Conversion Bill in the House of Representatives:

Paper Petition to Legislators to Support Nuclear Weapons Abolition Bill in House of Representatives - to print, circulate,
Roots Action online petition to Representatives supporting nuclear weapons abolition bill - to share via social media
Text of 2017-18 Nuclear Weapons Abolition and Economic Conversion Act (HR-3853)

History of the bill - Proposition One Campaign

Eleanor Holmes Norton's Dear Colleague Letter, 114th Congress

About UN General Assembly negotiations for a Nuclear Weapons Ban Treaty:

Reaching Critical Will's reports on draft Nuclear Weapons Ban Treaty l

International Campaign to Abolish Nuclear Weapons updates on Nuclear Weapons Ban Treaty

Carol Urner's Nuclear Information Links from 2016 Nuclear-Free Future Tour (see Carol on video presenting these resources)
Facebook pages:
Nuclear Free Future Tour
NucNews
Radioactive Roads
Eye on Congress
WILPF-US
__________________________________________________________________
Contact: Ellen Thomas
WILPF Disarm/End Wars Co-Chair
202-210-3886 (cell and text)
et@prop1.org and etprop1@me.com (travel email, 4/20-6/30/17)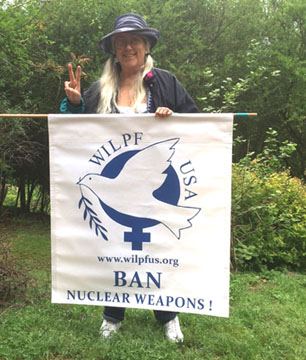 Ellen Thomas bio:
* Current Co-Chair of Women's International League for Peace and Freedom Disarm/End Wars Committee (since 2008)
* Co-founder of Proposition One Campaign for a Nuclear Free Future (1990)
* Maintained a vigil for global nuclear weapons abolition north of the White House day and night for 18+ years (1984-2002)
* Former Chair of Washington Peace Center Board (2007-8),
* Co-founder of Peace House in Washington DC (2002-2011)
* More at https://www.facebook.com/ellen.thomas.161
Cities Visited ... Speaking to Legislators ... Resources