WORKING FOR A NUCLEAR-FREE FUTURE
Please sign the Roots Action sign-on letter to your Representatives: "As a constituent, I urge you to co-sponsor the 'Nuclear Weapons Abolition and Economic and Energy Conversion Act' when Congresswoman Eleanor Holmes Norton re-introduces it in 2017.... The bill provides funding for environmental restoration and to transform our war industries to producing carbon-free, nuclear-free energy.... I ask you now to please tell Congresswoman Eleanor Holmes Norton that you will co-sponsor this legislation."
And please take time to thank Eleanor Holmes Norton for faithfully introducing her nuclear weapons abolition bill each session since 1994, tell her you've contacted your Representative to ask for co-sponsorship, and ask her to please, once again, re-introduce the legislation as soon as she can! Ms. Norton's phone is 202-225-8050, and fax is 202-225-3002.
Let your legislators know you want them to support a world without nuclear weapons! The Congressional Switchboard is 202-224-3121. The White House comment line is 202-456-1111.
Background:
Washington DC's Congresswoman Eleanor Holmes Norton last re-introduced her nuclear weapons abolition bill for the 12th time on Earth Day, April 22, 2015, as HR-1976. In her Dear Colleague letter, Ms. Norton wrote, "Polls indicate that over 70% of Americans want 'the peace and security of a world without nuclear weapons.' We must begin to turn public sentiment into public policy, and make advances toward a peaceful, nuclear-weapons-free future."
The bill has consistently been submitted to the House Armed Services and Foreign Affairs Committees, but never makes it out again. They should be written as well.
This is the ONLY bill in the U.S. Congress calling for global abolition of nuclear weapons. It also provides funding for conversion of the war industries to provide for environmental restoration and clean-energy conversion. Co-sponsors are needed!
YOU CAN HELP by asking YOUR Representative to co-sponsor the "Nuclear Weapons Abolition and Economic and Energy Conversion Act" this session. We also hope that a Senator will be found to introduce similar legislation into the US Senate.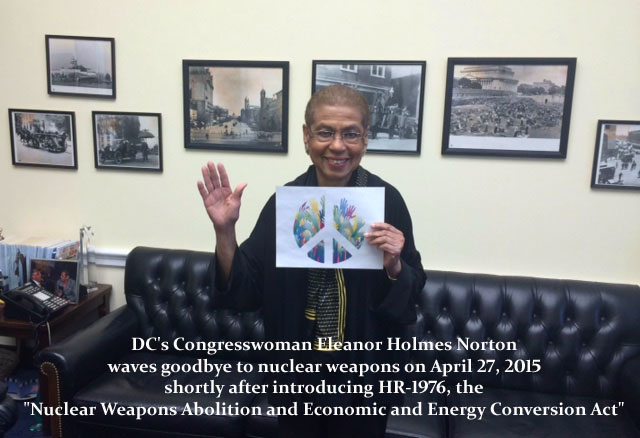 * In addition to the Roots Action letter above, you can contact your legislators at 202-224-3121, http://congress.gov/members, or by fax
* You can circulate the attached petition and send it to your legislator c/o US House of Representatives, Washington, DC 20515, with a copy to Proposition One Campaign at 401 Wilcox Rd, Tryon, NC 28782.
Please let us know if you have contacted your Representative or Senators so that we may follow up. Also, please contact the members of the House Foreign Affairs and Armed Services Committees and ask them to release the bill to the floor for a vote.
Working for a Nuclear-Free Future
For over three decades we have been working to rid the world of nuclear weapons and to shut down the entire nuclear chain. Since we cannot be sure to eliminate nuclear weapons without also eliminating the nuclear power plants which produce weapons-grade plutonium or enriched uranium, we strive to stop the building of any new nuclear power plants, and to replace nuclear power with carbon-free, nuclear-free clean energy systems.
On the issue of nuclear power, beginning in 2010 we attended hearings before the Blue Ribbon Commission on America's Nuclear Future, the Nuclear Regulatory Commission, the Department of Energy, the Georgia, South Carolina, and North Carolina Public Utilies Commissions, and the South Carolina Department of Health and Environmental Control to testify, film, and oppose any new nuclear power plants -- for example, our 2012 opposition to the proposed new Lee Nuclear Power Stations 1 and 2 in Gaffney, SC, 40 miles from our southeast office. We also have been posting testimonies of other opponents, people who live in the vicinity of proposed and existing nuclear power plants who are pleading with the nuclear industry to invest in renewable (solar, wind) energy instead of nuclear, which is so dirty and dangerous. These testimonies can be found on the Proposition One Campaign YouTube site.
History of the Bill
Background: Proposition One Campaign is a grassroots movement for abolition of nuclear weapons and the conversion of nuclear and other arms industries to provide for human and environmental needs. The concept was proven viable by the victory of DC Initiative 37 in 1993.
As a result, the
"Nuclear Disarmament and Economic Conversion Act"
was introduced each session between 1994 and 2009 into the U.S. House of Representatives by Eleanor Holmes Norton.
The bill was first introduced in 1994, then 1995, 1997, and 1999, when U.S. Representative Lynn Woolsey (CA) joined Ms. Norton and several experts on nuclear disarmament issues to announce active support for the legislation, and again in 2001, 2003, and 2005 (when Representative Woolsey, plus John Lewis and Cynthia McKinney of Georgia, and Sheila Jackson-Lee of Texas, quickly signed on). In 2007 there were no co-signatories, but in 2009 John Lewis and Lynn Woolsey's aides repeatedly told us that they signed on to HR-1653, although you'd never know about it by searching Congressional bills. (See Ms. Norton's 2009 announcement, which she timed to recognize Proposition One co-founder William Thomas, who died on January 23, 2009.)
During 2009 and 2010, Proposition One co-founder Ellen Thomas and a team from DC traveled 30,000 miles around the country learning about the entire nuclear chain, from uranium mines (reclaimed and not), to nuclear power and weapons plants, to radioactive storage facilities, and promoting voter initiatives everywhere. During that time they became convinced that we will never be sure of abolishing nuclear weapons until there are no longer nuclear power plants, which for sixty-plus years have been producing weapons-grade uranium and plutonium. The travelers received excellent suggestions for improving the language of the proposed bill, which up till then hadn't been getting much respect from Congress. They proposed revisions which Ms. Norton accepted in 2011.
The bill was renamed the "Nuclear Weapons Abolition and Economic and Energy Conversion Act." There were four co-sponsors for HR-1334, Representatives Steve Cohen of Tennessee, Bob Filner of California, Dennis Kucinich of Ohio, and Fortney Pete Stark of California. Again, John Lewis and Lynn Woolsey's aides said they were signing on, but it didn't appear on the Library of Congress website.
In 2013, Representative Raoul Raul M. Grijalva (Arizona), co-chair of the House Progressive Caucus, signed on to HR-1650, and in 2015 Raoul Grijalva (Arizona) and John Lewis (Georgia) again signed on, to HR-1976.
In 2016, Ellen Thomas and Carol Urner, co-chairs of Women's International League for Peace and Freedom (WILPF)-US Disarm/End Wars Committee, launched a tour of the U.S., to promote HR-1976 with WILPF members and others who want to help us meet with their US Representatives, starting in January and February on the West Coast with California, Oregon, and Washington states, and touring the East Coast from North Carolina to Massachusetts in April and May.
On January 30, 2016, Carol and Ellen were interviewed on Santa Cruz, CA, Community TV - and on February 15 in Portland, OR, Ellen was on KBOO Radio talking about HR-1976 and the history of the bill and its proponents.
While Carol and Ellen were in Washington, DC for the Alliance for Nuclear Accountability DC Days in late May, 2015, Representatives John Lewis (GA) and Raul Grijalva (AZ) told us that they would co-sponsor the bill, and during the 2016 DC Days, Representative Lacy Clay of St. Louis, Missouri told Ellen that he would also co-sponsor.
Other co-sponsors over the years, now retired, have included David Minge and James Oberstar (Minnesota), Charles Rangel (New York), Al Wynn (Maryland), and Earl Hilliard (Alabama). As each Congressional session ends, all unvoted-on legislation expires and must be re-introduced. Your help is needed in obtaining LOTS of co-sponsors in this Congress! Bipartisan support would be very helpful.
Next stage is the middle of the country in May and June, 2017, Ellen traveling this time with Odile Hugonot-Haber, a Program Committee Chair of WILPF-US. Check Proposition One Campaign Facebook page for updates on the Nuclear-Free-Future Tour. Please let them know if you would like them to stop in your community to tell the story not only Norton's bill, but also about progress towards a nuclear weapons ban treaty in the United Nations, and the Marshall Islanders' lawsuit which seeks complete abolition of nuclear weapons, and the Mayors for Peace proclamations, and the efforts to clean up uranium mines, and....
Now we have the Roots Action letter to help us!
****
We of the Proposition One Campaign thank Ms. Norton for her vision, courage, and patience over these many years. We hope this session the bill will have so many co-sponsors that it will finally get out of Committees and to the floor for a vote.
Contact Proposition One Campaign for more information.
[This is a current project of Women's International League for Peace and Freedom, U.S. Section, Disarm/End Wars Committee.]
---
PROPOSITION ONE CAMPAIGN
e-mail: et@prop1.org - 202-210-3886
---