Some journalists have been more than tolerant, have even likened the vigilers to saints, prophets, and even beautiful!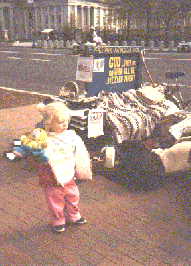 Actually the vigilers are just trying to practice what they preach. They still have hope for humanity. They believe someday, if they hold on long enough, people might wake up to their own responsibilities and begin, at last, to act compassionately, wisely, honestly. For this, and for the children, they endure harsh weather, the whims of police, and abusive behavior by hostile bystanders. For they know they're not alone.
So, the vigil continues... working for peace, hoping for humanity.
Regulations | Legal Cases
Pennsylvania Ave. Closure
1776 thru 1980 | 1981-Reagan
1989-Bush | 1993-Clinton
Vigilers Past
The Vigil and The Law
Back to Beginning | Proposition One
---